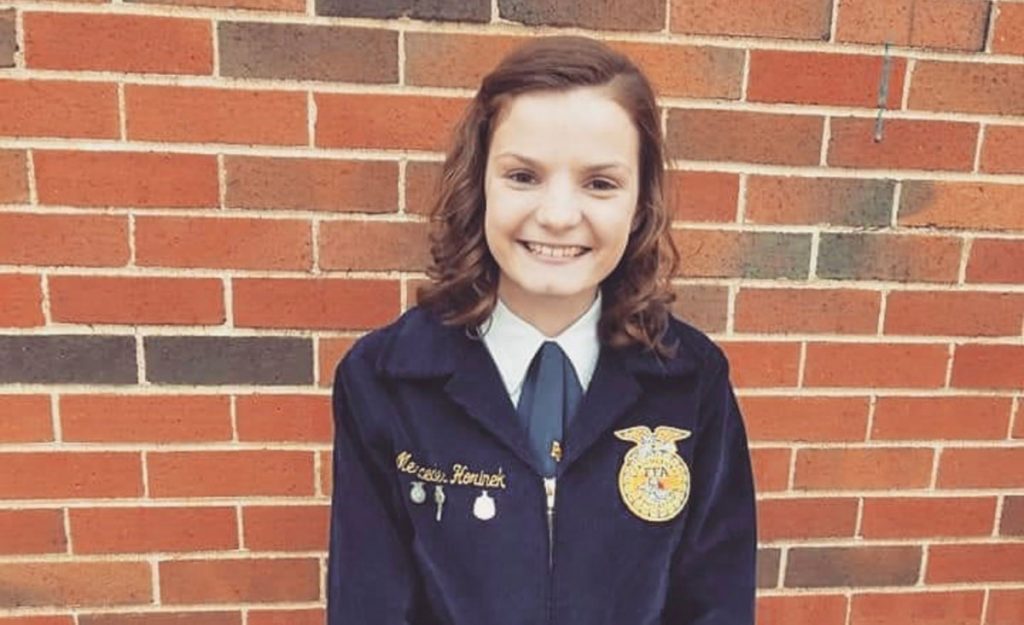 Hometown: Buffalo, Mo.
Parents: Brandi Rodriguez and Travis Horinek
Age: 18
Siblings: Julia Horinek, Joseph Horinek, Brenna Rodriguez and Jacob Amonett 
FFA chapter: Buffalo FFA
Chapter advisors: MaryAnn Boro and Joey Stokes
What is your involvement in agriculture? 
"I have just been elected as the president of Buffalo FFA and a vice president for the Area 10 Association. I have held FFA officers positions for the last three years: freshman year I served my chapter as assistant secretary, sophomore year I served as parliamentarian, and junior year I served as second vice president.
"My Supervised Agricultural Experience over the last three years has changed. I have had vegetable production, where I grew tomatoes and pepper plants in my school greenhouse, but I currently have SAEs of sheep production, goat production, food service and agricultural communications. I have been raising sheep and goats for 11 years. I recently started working at my local nursing home as a dietary aide, where I work in the kitchen and serve food to the residents. My agricultural communications SAE is starting to take off. I am starting to write articles for my local newspaper and hopefully going to write for Ozarks Farm and Neighbor."
What are your future plans?
"My future plans are to graduate high school, use on year of my A-Plus at Ozarks Community Technical College where I will get my associate's degree in teaching. I plan to transfer to Missouri State University to major in agriculture education and minor in agribusiness. After graduating with my bachelor's, I hope to teach in a rural community where I can continue to make a difference in the lives of those around me. After I start teaching, I would like to start an agricultural organization for agricultural missionaries. With this organization missionaries would be able to apply for and receive grants for agricultural related projects.
What's the best advice about agriculture you have received from adults? 
"The best advice about agriculture I have received from adults is to work for what you want because this is a hard industry to work in. My FFA advisors and my grandpa, Mark Gronniger, have taught me that the only way you will get what you want, not only from the agricultural industry, but life in general is to work hard for what you want."