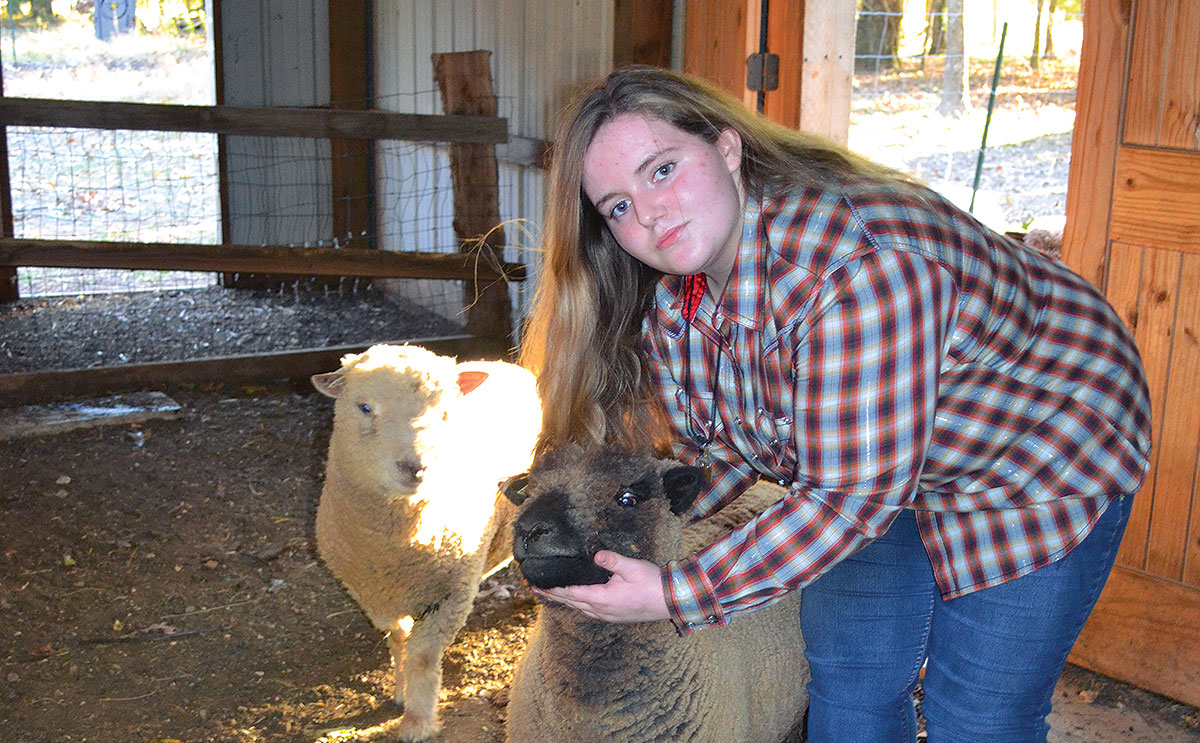 Stephanie Self is developing her own registered sheep operation
Thirteen-year-old Stephanie Self is an experienced shepherdess and is currently caring for 37 sheep on her family's 20-acre farm in rural Laclede County, outside Lebanon, Mo.
An eighth grader at Joel E. Barber School and the daughter of Byron and Sandy Self, Stephanie has shown her sheep at county fairs and at the Missouri State Fair the past four seasons. She raises three different breeds, including Old English miniature Baby Doll Southdowns, Cheviots and Hampshires.
"My parents bought sheep originally in 2016 and then I just got more involved with them as I researched more and more," she explained. "That's when I started showing, too."
While she shows all three breeds, she is also well versed in their different characteristics. For example, the Baby Dolls and Cheviots are used as dual-purpose breeds, raised for both wool and meat, while Hampshires are better known for their meat.
While her current school does not host agriculture programs, Stephanie is an active member of the 4-H Show Barn Club and is looking forward to participating in FFA next year as a freshman at Lebanon High School.
Health care is a high priority for Stephanie's flock.
"We have been very fortunate to have healthy animals in that our sheep are extraordinarily hardy because of their older genetics," she said. "They are highly resistant to disease. We do our own vaccinations annually and rarely have to get a veterinarian involved. The main concern is to watch for issues, especially in particularly rainy times. We check regularly for worms by checking their eyelids. Pink eyelids are a good sign, but white eyelids mean you have a worm problem."
Ewes lamb in early spring, typically in February and March, and lambs are weaned at 2 months of age.
Lambing is a busy time for the whole family.
"You have to watch during lambing season for the multiples because sometimes the sac doesn't break and the lambs can actually suffocate right there in the sac," Stephanie said.
"We are up all night during lambing season," Sandy added. "It's quite a learning experience." Sometimes there are problems with the rams as they are born, with larger heads and bulkier shoulders and as a result, it seems we have to pull rams more often than ewes."
Showing sheep requires animals to be in top condition, which requires Stephanie monitor the animals' nutrition, as well as keeping an eye on the rest of the flock.
"We have a lot of green pasture here for the working flock, such as the breeding ewes," Stephanie said. "In the fall and winter, we add hay and grain. For our show animals, we also add molasses, pellets and grain to a Purina-based diet of Honor Show Chow, Champion Drive supplement for fat and muscle development, as well as Fitter 35 and Power Fuel to boost metabolism."
In June, the Selfs purchased the breed registry from the Robert Mock family in Washington. The founder of the miniature Baby Doll breed, Robert Mock, passed away in 2012.
"It's an English breed and was nearly extinct after World War II," Sandy explained. "This is an international registry, including the U.S. and Canada, and they wanted it to go to a family farm. When we took it over, it was a year behind so we've had to work a lot of hours to catch it up. We have 21,000 Baby Doll sheep registered now, 1,800 of them new this last year.
"We keep copies on file here and send the original to the owner. A non-registered animal might be worth $150 to $200, but a registered animal is worth a lot more."
At this point, Stephanie's flock only contains registered animals, but she is considering other future plans.
"One plan would be to get into a crossbred commercial sheep program, raising market lambs sometime in the future," she said.
At such a young age, Stephanie says she does not know yet what she might choose to do as a full-time career, but she intends to maintain her involvement with agriculture and livestock.
"I'd like to have nine different kinds of sheep and 600 animals and make a sustainable profit," she said with a smile.