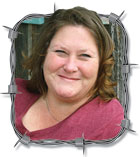 Things are changing in our world, and folks are facing a new "normal." We're also learning the meaning of the term "social distancing."
COVID-19 has shaken the lives of many and caused major impacts on our economy, not to mention sending some people in a tizzy for toilet paper.
Businesses, schools and other "gathering spots" are closed, but our nation's farms and ranches are still open for business.
The federal government and the Centers for Disease Control and Prevention have deemed agriculture a "critical industry" during this pandemic. This is a reminder that farmers and ranchers are critical every day – even when times are good.
Some producers may be thinking it's all for not as markets take hits, and row croppers are struggling to get into their fields because of continuous rains. We have to remember consumers are counting on us.
Like many of you, I've gone to the grocery store in recent weeks and found some things on my list out of stock.
Bread was scarce, so I decided I would make my own. I had some flour, but not enough, and my yeast was old, so down the baking aisle I went, only to discover it empty. I bought frozen hot rolls instead.
There was plenty of milk in the cooler, which was on my list. There may only be two people in my household, but we're milk drinkers, so I got two gallons, which is what we normally go through in a week.
Luckily didn't need any eggs; that area was picked clean. If I run low, I have plenty of neighbors I can purchase a couple dozen from.
We have meat in the freezer, so I wasn't looking to buy any, but I did see meat in stock. Ground beef is scarce and other cuts are expensive, making them out of the budget for some families at this time. That's a little disheartening these days.
There was one thing, however, I did not expect to be in short supply – reduced-fat peanut butter. I thought I was the only one in a three-county area who buys reduced-fat peanut butter. I guess all bets are off during a pandemic. The only peanut butter I could find was one mixed with grape jelly. Since I make enough grape jelly each summer to last us all year, I almost passed it up, but I got a jar. When I got home, Bill was ecstatic, which is very uncharacteristic for my husband.
"Get this from now on for me," he said as he opened the jar. I guess it was a favorite when he was younger.
We won't go hungry at the Crawford place, but I admit Bill's nagging at me to buy certain things by the case, which I have ignored all these years, makes me think twice now.
As this wears on, I hope people learn to appreciate the agriculture industry a little more. I hope they see farmers and ranchers as their friends and neighbors, not the bad guys. I hope they see all of the hard work it takes to get food on the shelves by everyone involved in the process, from start to finish.
The sun is trying to bust through the clouds as I write this, and I'm taking that as a sign of good things yet to come. A little sunshine always makes the gloom fade away – and dries up mud.
Keep on farming and ranching, my friends. The nation is depending on you. I'm depending on you.
Julie
Julie Turner-Crawford is a native of Dallas County, Mo., where she grew up on her family's farm. She is a graduate of Missouri State University. To contact Julie, call 1-866-532-1960 or by email at [email protected]